Vision
Effect the expansion of human consciousness.
Mission
Create and provide accessibility to consciousness-expanding pathways that swell the ranks of joyous, robust, resilient, remnant against the backdrop of accelerating climate change.
Objective
Facilitate people's physical, mental, emotional, and spiritual preparedness for a powered-down, post-carbon future.
Steps
Provide a user-friendly consciousness-expanding toolkit
Create a supportive sociocratic network that disseminates the toolkit
Grow plant medicine to foster localized self-care sovereignty for distressed groups.
Offer climate change navigation toolkits supported by plant medicine to the public.
---
Medicinal Herb "Reskilling" Foresees Future Cascading Crises
African Diaspora Coalition: Selfcare Sovereignty Story
It's said that every type of medicinal plant grows abundantly where it is most needed by people and animal life in the area. It makes perfect sense then that ground ivy and burdock, powerful heavy metal detoxification and blood purifying herbs, grow profusely on the border of Chester, Pennsylvania. A city with grit, heart, and an indomitable spirit, Chester has also been a toxic waste dumping ground for the entire Mid-atlantic region for decades. The healing plants that surround Chester grow in service to residents' health and wellbeing.
In pursuit of sustained wellbeing at a time of pandemic and accelerating climate change, Chester residents are now "reskilling!" That is, the inspired novice herb gardeners are resurfacing and relearning herbal plant cultivation skills that were part of community self-healing for generations until recently. Chesterites are increasing their capacity for self-sufficiency by growing their own plant medicine. Community members are reclaiming selfcare sovereignty in anticipation of cascading
crises which are already disrupting access to medicines and healthcare. Chester, Pennsylvania, a city of 30,000, is the heart and operational center for the African Diaspora Coalition Plant Medicine Project (ADC). The ADC launched its "grow your own medicine" and herbal wellness education work, driven by partners in marginalized communities of African descent, in 2017. A cluster of medicinal herb growsites in Chester compose the project hub and prototype model. Singularity Botanicals distributes medicinal herb supplies free of charge to Chester residents in conjunction with the ACD, a nonprofit, tax exempt educational organization.
 ______________________________________
Donations for ADC plant medicine supplies distributed by Singularity Botanicals directly support accessibility of plant medicine in Chester and other economically depressed areas. Our goals are to:  
Put increased control over the ability to treat illnesses that chronically plague the Black community directly into the hands of African Americans.
Localize production of plant medicine which is crucial to resilience and survival in times of climate disruption.
Build and grow an artisanal, self-healing and self-transformation cottage industry.
 Our Pathway toward Perpetual Transmutation:
Form local partnerships: The African Diaspora Coalition (ADC) has built close relationships with several Chester herb grow-sites and two major herb wildcrafting site partners over the past three years. The Coalition's eclectic group of Chester and Delaware County, PA community partners, includes: the Chester Senior Center, Widener University's Taylor Memorial Arboretum, a partner land-owner of a 20 acre parcel in nearby Cheyney PA, Pendle Hill Study and Retreat Center, Shiloh Baptist Church, and Chester [Quaker] Friends Meetinghouse.
Affirm existing local wisdom: Coalition partners rekindle and celebrate eons-old knowledge of plant medicine that was not so long ago a living, vibrant part of African American cultural knowledge. The deeply anchored collective ancestral memory often opens the door to re-embracing the plant world and plant medicine.
Offer medicinal herb cultivation education: Chester growers, the ADC herb education team, and out of state grower-partners enjoy online herbalism immersion training in: herb identification, propagation, planting, maintenance, and harvesting methods.
Provide herbal wellness education: Chester residents become familiar with various medicinal herbs during on-site herbal wellness talks, "tea tastings" and small-group discussions. These conversations deepen relationships and community-building. 
Cultivate plant medicine that addresses chronic poverty-driven health conditions: People of color experience heart disease, stroke, diabetes, hypertension, asthma, and lead contamination at exponentially higher rates than does the mainstream population. Singularity Botanicals growers and herbalists work beside Chester residents to cultivate and harvest plant medicine which treat these health conditions that are prevalent in communities of African descent as a function of prolonged stress, poverty induced diet, and longstanding institutionalized, and systemic health disparities.
Convene value-added production workshops: on tincturing and tea making.
Engage area colleges: Interns engaged through Swarthmore College's Lang Center for Civic and Social Responsibility, and Office of Sustainability volunteer at ADC grow-sites, help with value added production of herbal teas and tinctures, research, and assist with herbal wellness educational events. 

Generate regional plant medicine connectivity:

The project fosters regional interchange by interconnecting co-partner nodes across a web of herb grow-sites in five states (Pennsylvania, New York, Illinois, Ohio, and Texas). The Earth's fractal-patterned web of life is the organizing model.
Infuse Community Supported Enlightenment (CSE) Ethos in Chester work: Environmental resilience building occurs within a larger constellation of projects that facilitates people's physical, mental, emotional and spiritual preparedness for a post carbon, climate-changed future.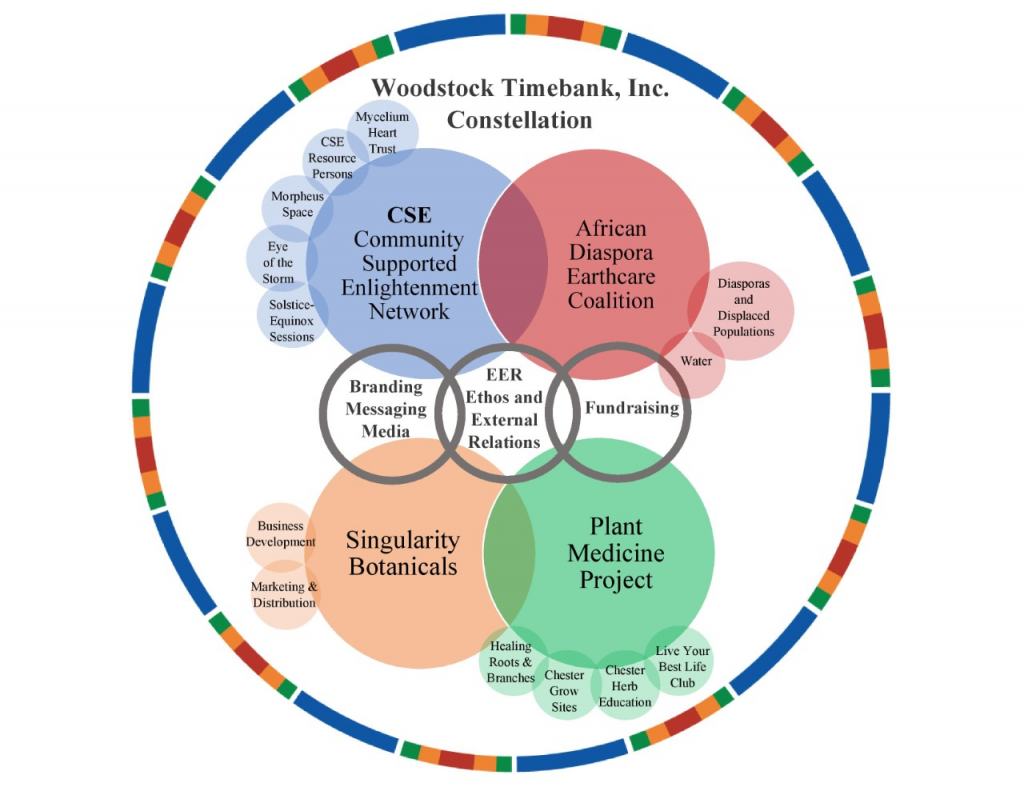 To that end, along with education about medicinal herbs we offer a user-friendly consciousness expanding toolkit and a sociocratically governed network that lives into and exemplifies the ethos of that toolkit.
The national network, called Community Supported Enlightenment (CSE) is a community of practitioners, many of whom are herbalists and herb growers, who combine ancient contemplative practices sharpened by cutting edge neuroscience in a quantum science framework for self-transformation in service to social change. The CSE project is known in distressed communities where we work as the, "Live Your Best Life Club."
Coalition partners fully understand the existential need for increased selfcare sovereignty among marginalized people of African descent. Working together in a, "power-with"* collaborative community, Singularity Botanicals and African Diaspora Coalition co-partners embrace plant medicine as a key to autonomy and environmental resilience at this critical juncture in the Earth's climatic history.
Environmental resilience-building at its best reflects nature's magnificent, multilayered interconnectedness. We envision environmental resilience-building in our network taking place in towns, cities, states, regionally, and nationally — linked in community, and facilitated by a constant communications flow through every concentric ring via a permeable membrane!
Catch the vision. Support, and work beside us. The reward for service is more consciousness-expanding service in a welcoming community, and the thrill of perpetually becoming…
* Singularity Botanicals and the African Diaspora Coalition are divisions within the Woodstock Timebank Inc. Constellation of Projects.
* Singularity: Singularity is the still point at which duality breaks down; the center that is everywhere and nowhere beyond the world of perception of form and emptiness, time and timelessness. Beyond stillness and movement, singularity is a dynamic stillness or pregnant emptiness. It is the unfathomable beyond the event horizon and the threshold between self and no self. 
* Sociocratic governance in the Woodstock Timebank project constellation, of which Singularity Botanicals is part, uses processes that foster equivalence, i.e. "power with" rather than "power over"co-partners in decision-making.